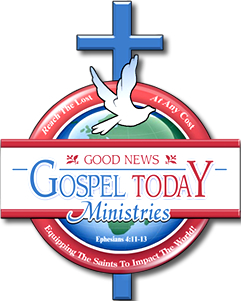 VISION STATEMENT
Reaching the Lost at any Cost & Equipping the Saints to Impact the World!!
MISSION STATEMENT
Because God is establishing his kingdom and leading His people to experience abundant life, Good News Gospel Today Ministries covenant together to preach and teach the gospel, to strengthen families and households, and to build a community of believers throughout the world.
It is our endeavor to honor the Lord Jesus Christ through worship, the word and witness.
Good News Gospel Today Ministries will help encourage individuals to develop themselves into the full measure of the stature of the Lord Jesus Christ and to discover and fulfill their God given destiny on this earth. It will strengthen families and homes by encouraging family relationships, household industry and Godly heritage.
Good News Gospel Today Ministries will build a Christian community of people dedicated to the purpose of the Kingdom of God; reaching the unreachable, teaching the unteachable and ministering to those who desperately need to experience the love of God locally, nationally and globally.